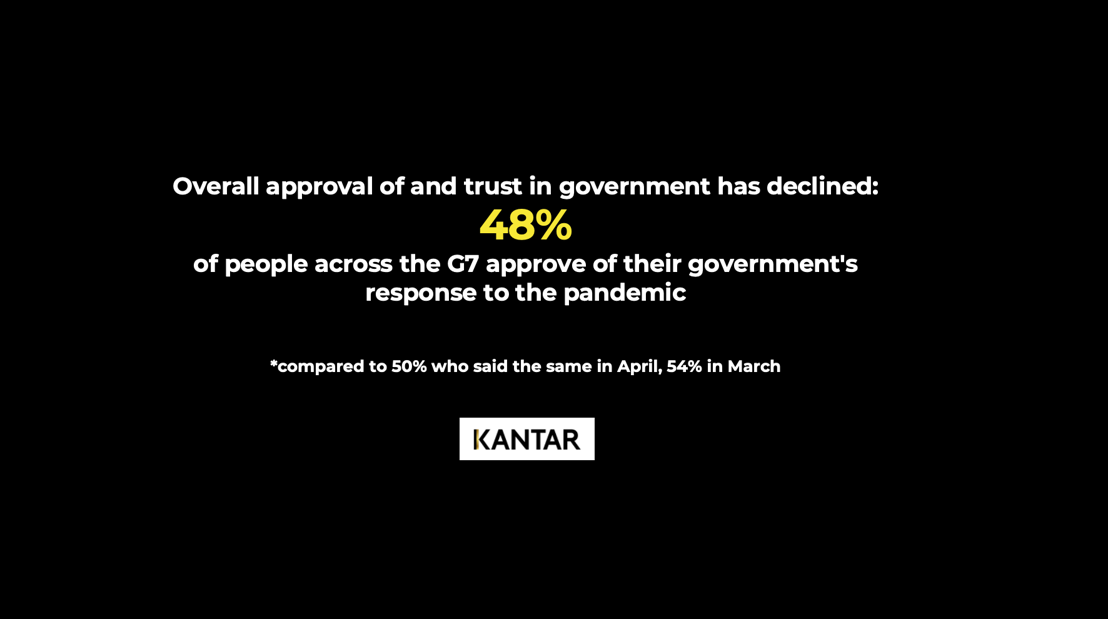 The long-lasting effects of the pandemic and consumer confidence
6 minute read
Apart from the immediate impact on people's lives, the COVID-19 pandemic also impacts the economy and politics of each affected country. This impact depends on how hard each coutry has been hit by the virus and how each country dealt with the pandemic and how well it meets people's expectations of such response. A direct reflection can be seen in one of the latest KANTAR studies, which examined the effect of COVID-19 in G7 countries (third wave of the study: 7,012 interviews conducted online among adults (16+) living in G7 countries between 28 May and 1 June 2020).
Here are some of the key findings from the survey:
- Overall approval of and trust in government has declined with significant country differences. Across the G7, less than half of people (48%) approve of their government's response to the pandemic, compared to 50% who said the same in April, 54% in March. All countries except Japan (37%, +7) saw approval fall from April: Canada 70% (-4), Germany 65% (-2), Italy 65% (-6), US 42% (-4), France 41% (-2), with Britain seeing an 18 point drop in approval from April to 51%
- Just half (50%, -4) of people in the G7 say that to some extent, they trust their government to make the right decisions in the future based on their response to the coronavirus outbreak. Notably, whilst recognising trust to some extent in government is expressed by a 60% majority in Britain, it has nonetheless plummeted from April by a 16-point drop
- 61% across G7 think that their national economy will be a bit/much weaker than before the coronavirus outbreak
- One in seven (14%, -2) report having lost half their personal income or more
Why this data is important for marketing and communications too: because it correlates to consumer confidence - if consumers are uncertain about the future and their trust in their government to deal with the crisis and its effects on the economy is low, then they, in this situation of uncertainty, will be cutting what they spend, in addition to the effect of reduced incomes due to the crisis (for 31% of Bulgarians income has dropped by 50% and more due to the crisis COVID-19). And in Bulgaria, this consumer confidence index had already seen a decline before the pandemic, according to data for January 2020. We are yet to see data on changes in this index in the coming months. Meanwhile, we are witnessing a still timid return to previous habits: although restaurants and diners and the like have already opened their indoor spaces since June 1, it cannot be said that attendance levels are close to normal for this time of year.
In theory, it is possible for consumers to 'talk themselves into a recession'. If people expect a recession, confidence drops, spending drops, creating a negative multiplier effect of lower growth and higher unemployment. This, in turn, causes more falls in consumer spending. Though in reality, consumers don't expect a recession without some good reason. Recessions have more causes than an unexplained fall in confidence. However, the drop in confidence strengthens the underlying negative factors.
You can find more data in KANTAR's study.
Should you have any questions about the topics in the story, you can contact its authors at [email protected]