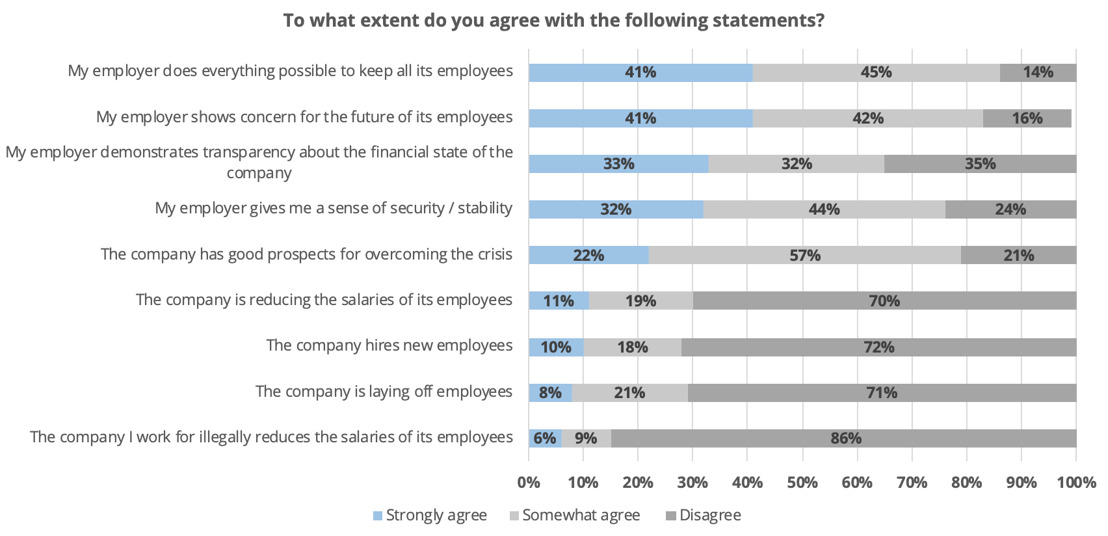 Impact on lockdown measures on Bulgarian employees sentiment: Pragmatica research
The attitudes, sentiment and expectations of employees in Bulgaria, May 2020
Key findings from the survey of Pragmatica, which interviewed 500 Bulgarians on longterm labour contract in the period May 2 - 5, 2020:
41% of respondents say they feel optimistic about the future of the company they work for:
The information that employees expect from their employers is mainly in two directions - what is the actual financial state of the company at the moment and what is the direction in which the company will develop in the future.
NPS (Net promotion score) at -4:
The relationship between employees and employers over the last month, has lead to a very low likelihood for recommendation of companies by their employees. As a result, the NPS indicator is negative at -4.
63% of respondents said that the crisis has had a negative impact on the company they work for. Only 4% rate the effect as positive.
On average, the salary of 15% of employees has been reduced by 29%, another 4% have not received a salary in the last month.
25% of respondents declare their intention to change jobs in the next 2-3 months.
You can find the full report here (In Bulgarian):
Should you have any questions about the research, contact its author Dinyo Madjarov, [email protected]