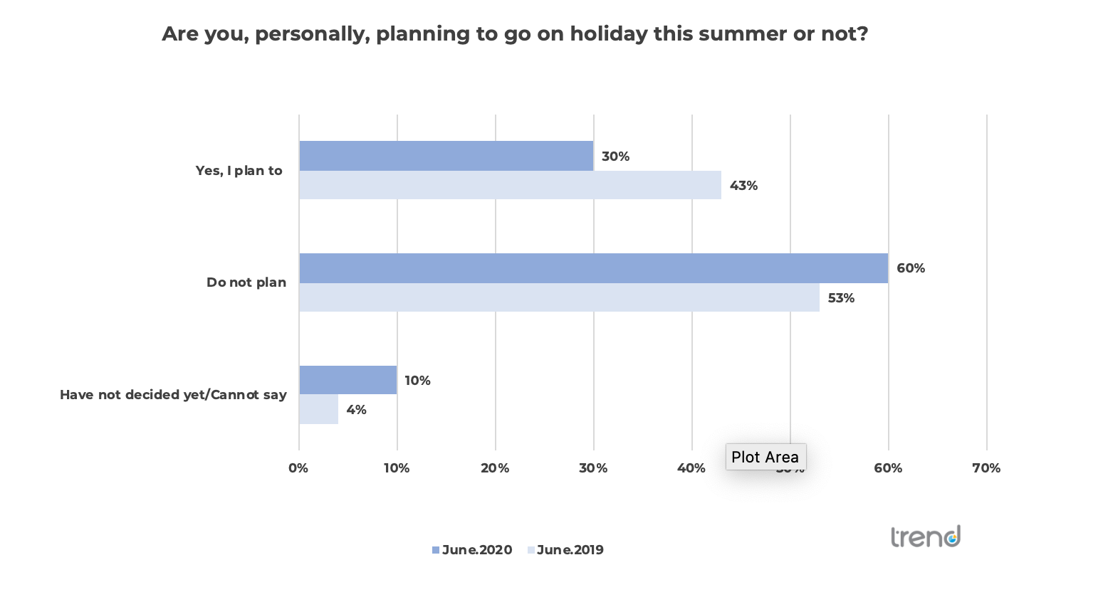 Effects of COVID-29: New surveys this week from RC Trend and Nielsen
4 minute read
We have made a selection of data from surveys published in the period June 10-12, which directly relate to consumer attitudes and have an impact on what and how much Bulgarians spend.
Data from the survey* of RC Trend, aimed at understanding Bulgarians' attitude to this summer holiday season and what their plans are. The study includes a comparison with the same data from last year's survey.
One in three Bulgarians, that is over 1 million and 600 thousand of the adult Bulgarians plan to go on holiday this summer. Compared to the previous year, Trend reports a decline in the share of Bulgarians planning a holiday. One in ten Bulgarians has not yet decided whether to go on holiday this summer or not.

The main reason among those not planning a vacation is because they cannot afford it. 12% of those who are not planning to go on holiday are people who say they are worried about the coronavirus pandemic.

Nearly half (47%) of respondents share concerns about vacationing abroad due to the COVID-19 pandemic, while 40% do not share such concerns.

Slightly more than half of Bulgarians (53%) have no worries about visiting places where there are many people.

Nearly two-thirds (62%) of Bulgarians have no concerns going to a restaurant or cafe, compared to 31% who do have such concerns.
Nielsen conducted a survey** aimed at understanding changes in consumer behaviour, caused by COVID-19.
The share of Bulgarians buying fast moving consumer goods online increased by 14% during the COVID-19 pandemic.

39% of Bulgarians stated that they worked much more often from home, as a result of the COVID-19 crisis.

57% say they eat at home more often than before the coronavirus spread.

30% believe that they would return to their behaviour before the epidemic as far as eating is concerned.

60% say that their laundry habits have changed. This change is mainly expressed in more frequent washing or in doing the laundry at a higher temperature.
* conducted in the period 1-7 June among 1008 Bulgarians over 18 years of age, through a direct semi-standardized face-to-face interview
** conducted at the end of April among 500 people over the age of 18, covering the 10 largest cities.